Local Real Estate Market Update: Week of July 6th
For this week's real estate market update for the 4-county area of DuPage, Kane, Kendall, and Will, we take a look at how the holiday weekend impacted the market, and what trends we're seeing as the market continues to adjust to current circumstances.
New Listings
We had our first week since the beginning of the pandemic where the number of new listings coming to the market this year outpaced last year. The Fourth of July is typically where we see new listing inventory fall off so that part isn't surprising, but what is surprising is that we didn't see much of a fall from previous weeks. Inventory is much needed, so this is an encouraging sign!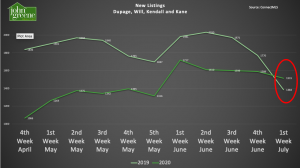 Under Contract
We always expect to see a dip during a holiday weekend, especially the Fourth of July; however, it was still the 4th-strongest contract week of the year indicating that buyer activity remains strong.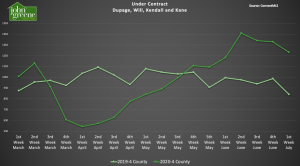 Showings
Here is the real-time showings graph which is a great forward-looking indicator of buyer activity. It is normal to see a slow-down in showing activity due to the holiday, and while we did see it as expected, buyer activity still significantly outpaced last year.
Absorption Rate
Once again, our favorite graph. Absorption rate compares under contract vs new listings. In a normal market, we generally see this number hover around 60% (for every 10 new homes listed weekly, 6 go under contract). You can see how the 2019 line jumps up, and that's because the new listing inventory last year fell off at a greater pace than under contract activity. Looking at 2020, despite the fact that we've seen new listing inventory holding pace the last few weeks, we just aren't seeing enough to keep up with the buyer demand which is why the percentage remains high.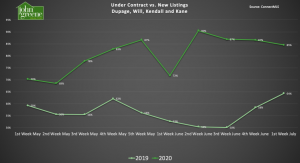 In summary, we're seeing normalized adjustments for a holiday weekend, but the market is still outpacing last year. We will pay particular attention in the upcoming weeks to see if the typical July slow down happens, or if we can keep this momentum going…
For any questions, please don't hesitate to call our Real Estate Resource Hotline at 630-793-0876. Our team of agents is available and happy to answer any real estate questions you may have!