Looking for some delicious and authentic Mexican street food? Visiting a taco truck will get you just that. Here are some of the best taco trucks in Aurora and the surrounding suburbs.
Tacos Diablo Truck - Aurora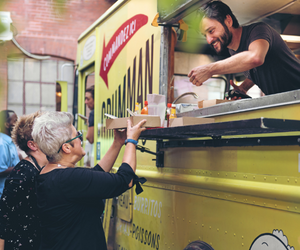 The Tacos Diablos Truck is run by master chef Uriel. He started Tacos Diablos after years of cooking experience at well-known restaurants in the USA. Their menu has a variety of options including tacos, quesadillas, burritos, tortas, nachos, and cheese fries. The over 40 5-Star reviews rave about their amazing catering service as well. Tacos Diablos Truck has it all! Check out their website here.
Taco Grill & Salsa Bar - Naperville & Montgomery
Taco Grill has two food truck locations and an eat-in restaurant. They are known for their variety of salsas (the reviews love the salsa verde). Choose from tacos, tortas, burritos, or nachos. They also have chips and guac! Their trucks are located by each of the Menards in Naperville and Montgomery. What's better than some tacos after your shopping trip? Check out the locations here.
El Taco Ranchero - Aurora & Bolingbrook
El Taco Ranchero has two locations as well. One is located at the Fox Valley Mall and the other at the Promenade Bolingbrook. Their authentic al pastor tacos with the avocado sauce are a MUST try. If you can't choose which meat you'd like to try, they offer Campechano, which is mixed meats. Either way, you cannot go wrong with anything you choose at El Taco Ranchero. They have everything you'd want from a taco truck and more. Check out everything they have to offer here.
Primos Tacos - Aurora & Montgomery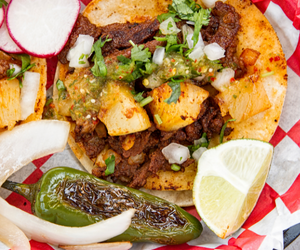 With their main location located in Aurora, they have THREE taco trucks in the area as well! Primos Tacos food trucks offer so much more than your typical Mexican food options. They offer elote (Mexican style corn in a cup), quesabirrias (meat and melted cheese fried tacos), sopes (fried dough base with meat and toppings), and gorditas (stuffed pockets of meat and toppings). Enjoy a Mexican Coke or Jarritos Mexican soda with your meal as well! With over 300 5-star reviews, you must try out Primos Tacos either in one of their Aurora or Montgomery locations. Check out their food truck menu here.
Taco Movil - Aurora
Taco Movil is located in Aurora one of the highest-rated taco trucks around with over 440 reviews! Their menu is a little simpler than some of the previous places mentioned, but for a good reason. Choose from either tacos, burritos, or tortas (sandwich style), and your favorite meat. Their steak and al pastor tacos are their most popular kind, so if you don't know what to try, now you do! Pair a cup of horchata (rice water) with your tacos as well for a little bit of a sweet treat. You'll want to go back every time you drive past the truck! Check them out here.