Local Real Estate Market Update: Week of October 19th
It is our goal to keep you informed on what we are seeing in the local real estate market, while also tracking the impacts of COVID-19. In this week's update, our discussion points consist of listing dips and demand holds. If you are thinking of listing your home soon, now might be the right time! As always, the data pulled is reflective of the Kendall, Kane, DuPage, and Will County areas, so please be sure to reach out to an agent if you'd like data on a different area.
New Listings
As you can see, the market is currently slightly behind 2019's new inventory levels with a dip in the second week of September. We are slightly behind on total listings compared to last year, but we also see that new inventory seems to be mirroring a very similar trend as last year's.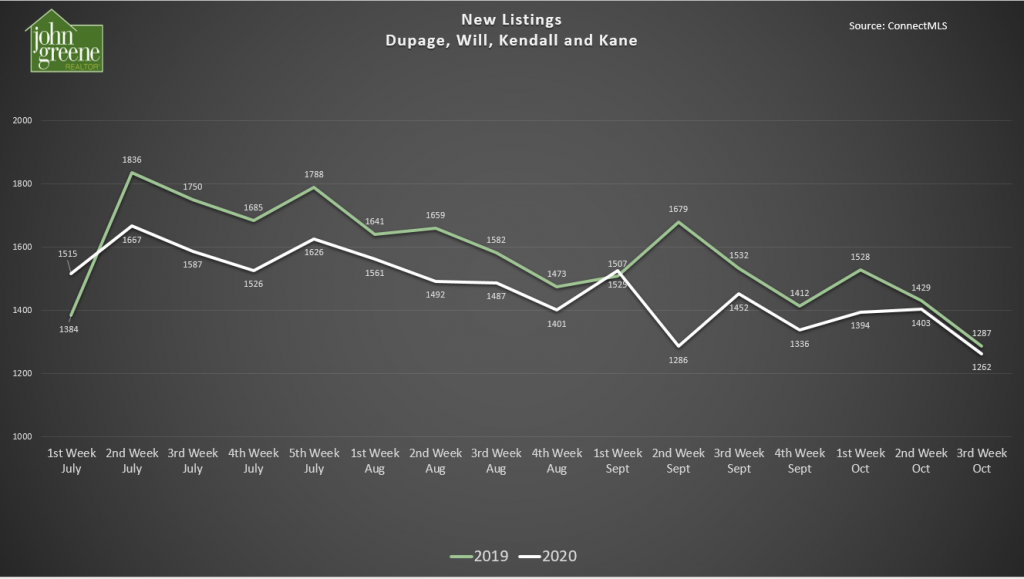 Under Contract
Under contract activity remains very steady, and is way above 2019's under contract activity. With inventory levels still historically low and strong buyer demand, we are continuing to see a competitive real estate market with amazing properties receiving multiple offers.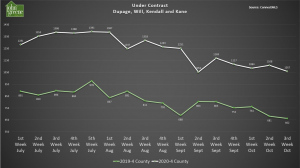 Showings
Showing activity is a great forward-looking indicator of buyer activity. We are way above last year's showing activity, with the exception of the dip from March to May due to the initial start of the pandemic. We see a bit of a trail off from the end of June into October, but that is expected as we move into the fall season.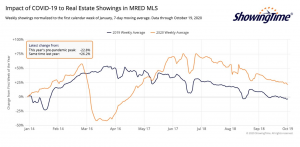 Absorption Rate
This graph illustrates under contract vs. new listings. In a normal market, this number generally hovers around 60% (for every 10 new homes that come to the market weekly, 6 go under contract). With new inventory levels stabilizing and contract activity remaining strong, we are seeing an unprecedented rate of absorption.
Summary
With limited inventory, strong buyer activity, and historically low interest rates, now is a great time to sell your home or consider listing in the spring! Reach out to a john greene agent today to help you get the process started and to learn more about the current status of the housing market.
As you can see in the data, the market is stronger than ever and our agents are here to help by producing strong marketing materials and pricing strategies so your home selling process will run along smoothly and successfully.
For any questions, please don't hesitate to call our Real Estate Resource Hotline at 630-793-0876. Our team of agents is available and happy to answer any real estate questions you may have!