Local Real Estate Market Update: Week of May 25th
We're back this week with another real estate market update! As usual, we are sharing data from the four counties we primarily serve, so please keep in mind that real estate is hyperlocal. We encourage every potential buyer and seller to have a conversation with a real estate professional to discuss your local market!
New Listings
This first graph looks at new listings year over year. We saw a slight increase in new listings which is a good trend to see since we are lacking inventory. As you'll see from last year, once we get to Memorial Day, we tend to see a peak in new listings coming to the market. With strong pent-up demand due to COVID-19, it's our hope that we will not see the same seasonal trend and that the typical high-selling spring market has simply been postponed.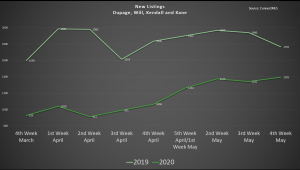 Under Contract
Here is the same chart, but for under contract activity. The big takeaway here for this week: under contract activity is now outpacing last year.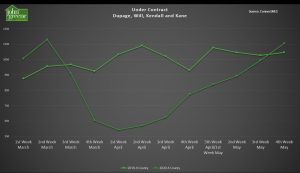 Showings
Here is our real-time showings graph which gives us a great forward-looking indicator as showing activity is a strong predictor of contract activity. You'll notice, we have caught up to last year's traffic numbers! But, you will see the dip there in both years at the end. Memorial Day is likely playing a factor there since it's a rolling 7-day average and traffic does go down on holiday weekends. We'll see how this plays out in the upcoming weeks; however, we predict we're going to see 2020 outpacing the typical seasonal slowdown.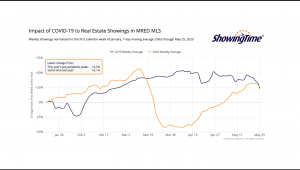 Absorption Rate
This is under contract vs. new listings. In a normal market, we tend to see this number hover around 60%. Meaning that for every 10 new homes that come to the market each week, we see an average of 6 go under contract. You can see how this number has reached levels we have never seen before. This is another great visualization of how quickly the market is moving relative to the listing inventory available.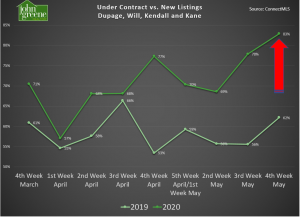 Summary
We need inventory! Despite seeing a modest increase in new listings in the past week, it just isn't catching up to the level of contract and buyer activity in the market. We encourage every potential seller to have a conversation with a real estate professional to discuss your local market.
For any questions, please don't hesitate to call our Real Estate Resource Hotline at 630-793-0876. Our team of agents is available and happy to answer any real estate questions you may have!