Local Real Estate Market Update: Week of June 8th
This week we'll be sharing the latest updates on what's happening in the local real estate market. As a reminder, we are sharing data from the four counties we primarily serve (DuPage, Will, Kendall, Kane). Real estate is hyperlocal, so we encourage you to reach out to a real estate professional for any questions about activity in your area.
New Listings
As you can see, we got a much-needed spike in inventory. It's consistent with the same jump we saw in the first week of June last year and it's really good to see. Now that we have a nice infusion of inventory, we'll want to watch to see if demand is keeping pace…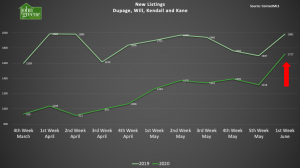 Under Contract
Under contract activity is holding steady. In fact, go back and compare last week to the 2nd week in March and you'll see that this is the most active under contract week we have seen in the past two years!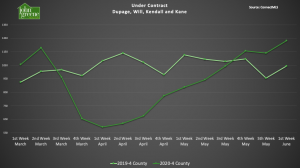 Showings
The real-time showings graph is a great forward-looking indicator. Looking at last year's line, this is when we typically see traffic start to fall off after Memorial Day. However, we are still seeing a bit of growth for this year which is a great indicator of what should be a strong next couple of months.
Absorption Rate
This is under contract vs new listings. As a reminder, in a normal market, we tend to see this number hover around 60% – meaning that for every 10 new homes that come to the market each week, we'll see an average of 6 go under contract.
We had our most active under contract week in the past several years this last week, yet you see the absorption rate went down, and that's because new listing inventory rose more proportionately.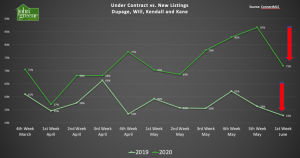 Market Summary
All in all, it was a very promising week for our real estate market. Buyer activity remains strong and sellers are regaining confidence and jumping in. Where we typically start to see the market fade into the summer coming off the spring, we believe all signs are pointing to a very active summer market.