Local Outdoor Dining in the Western Suburbs
Eating any food itself is an experience, but who doesn't love eating in a beautiful, outdoor setting? There are so many different and unique restaurants with outdoor dining options around the western suburbs. From relaxing sounds to beautiful scenery, there is nothing more satisfying than enjoying a delectable meal with a view. Check out our list of just some of the local outdoor dining options available in the western suburbs.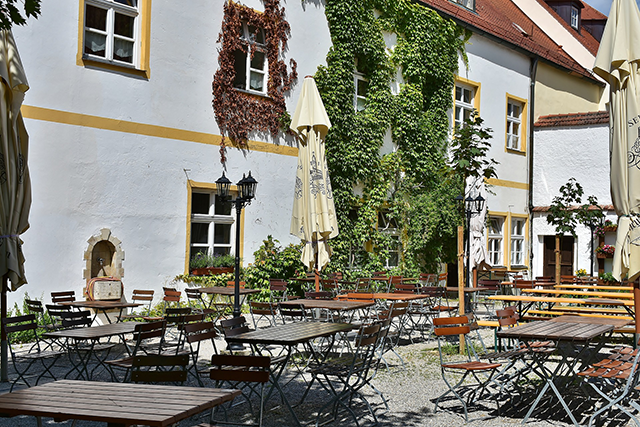 The Ivy focuses on providing a farm-to-table experience for all their customers. They offer modern American cuisine, such as steaks, seafood, and pasta, using local ingredients. Their courtyard dining experience is phenomenal. When the ivy is in full bloom, it engulfs the side of their building painting a beautiful, picturesque scene. Their patio décor and ambiance changes with the seasons, creating the most unique dining experiences they can for their customers. Check out their menus here.
If you are looking for elegant, upscale New American fare and wine, check out Fiora's! Located in the heart of beautiful historic Geneva, this quaint converted home with a sunroom is regularly voted "Best Restaurant" in the Fox Valley. Their award-winning and unrivalled spacious outdoor dining patio and stage are open in the late spring, summer, and early fall. Enjoy a nice meal in their outdoor setting while listening to some of the best live music entertainment in the western suburbs! Check out their summer menu here.
Palmer Place has been family-owned and operated since 1983! This lovely restaurant offers American bar chow, burgers, and an array of beers. They have a great outdoor dining area both on the patio (Biergarten) and rooftop! Plus, their outdoor patio/Biergarten is the largest in the area making it perfect for socially distant seating. Right now, their summer concert series is going on in the Biergarten, so let the sun rays sink in as you enjoy some delicious grub while listening to some great tunes! Check out their full menu here.
Adelle's Fine American Fare | Wheaton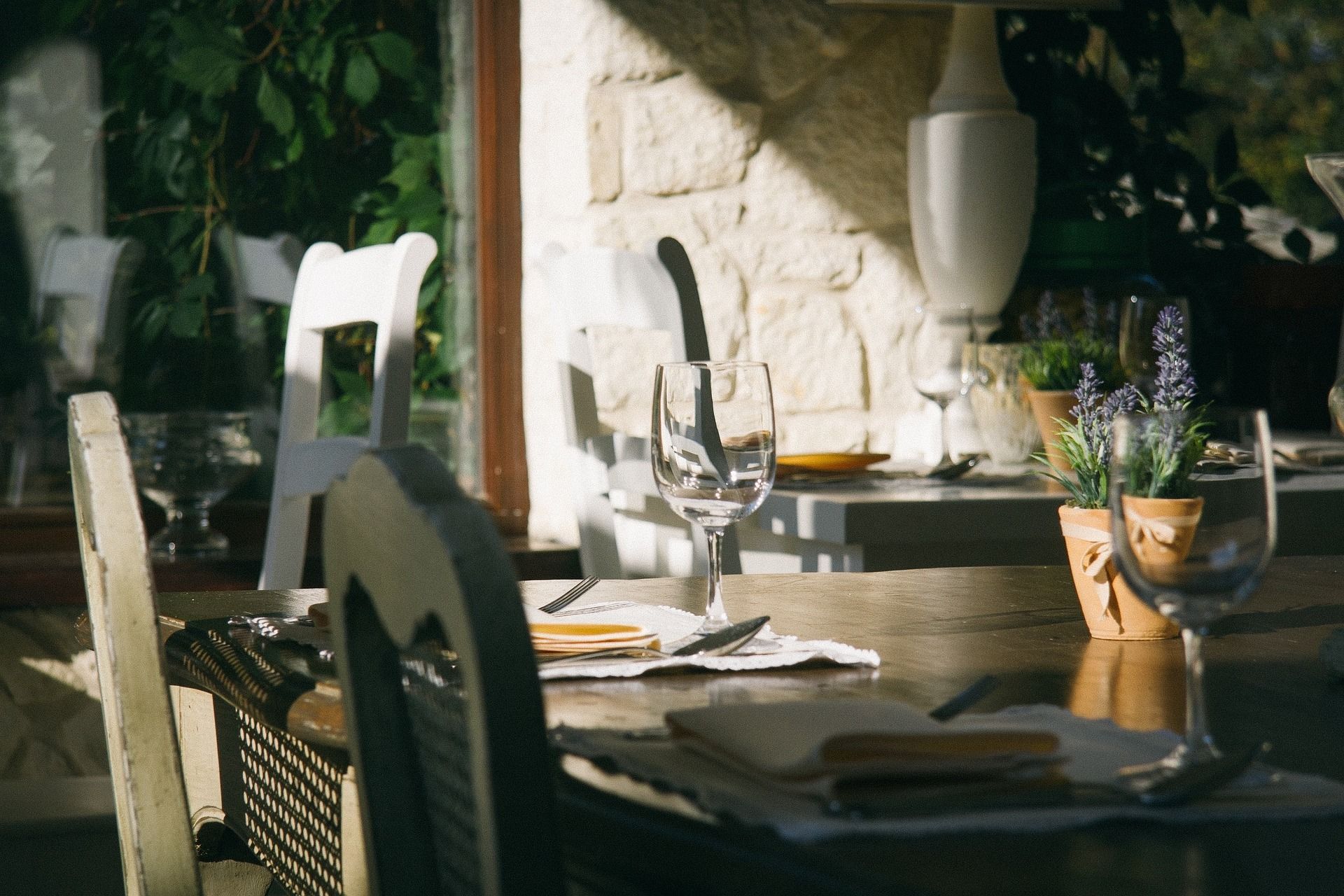 An award-winning scratch kitchen since 2004, Adelle's is the perfect spot to find eclectic global bistro fare that is made fresh and intensely handcrafted. Some of their delicious items include steak, seafood, pastas, soups, and salads. Enjoy dining outdoors in their lovely, pergola-topped courtyard that contains beautiful sculptures, hand-made glass flowers, and, for chillier nights, heaters! What a perfect experience for both your tastebuds and eyes. Check out their menu here.
Mesón Sabika is a pristine four-acre estate and beautiful mansion that serves up delicious cuisine of Spain. This unique restaurant is well-known for their tapas, a wide variety of small plates, finger foods, and appetizers. This type of dining style allows for a completely exquisite and one-of-a-kind experience for each person. Their incredible, award-winning patio offers views of towering trees, walkways, and beautiful flowers. It's as if you stepped right into Spain and sat down for an amazing meal in a lush setting! Check out their menu here.
Voted #1 neighborhood bar in the western suburbs and featured on Chicago's Best, Fuller House is the perfect place to find house-made and fresh-to-order cuisine! Some of their tasty items include tacos, steak, seafood, pizza, soups/salads, and craft beer. Their outdoor eating area is very large and super comfortable making it a great spot for the whole family to eat al fresco. Check out their delicious menu items here.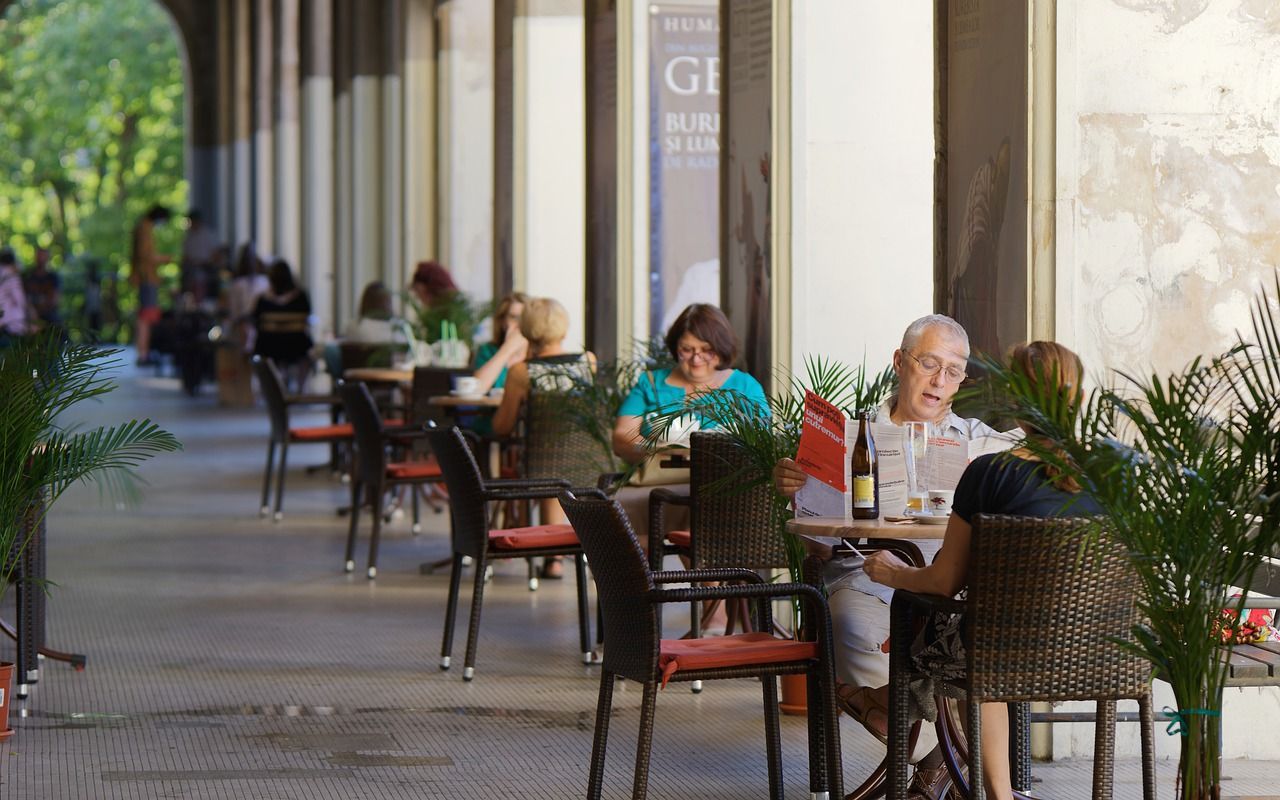 Topaz Café offers a friendly, urban-chic ambiance and serves up unique contemporary American fare that showcases their fresh and innovative flavors. Some of their delicious items include steaks, seafood, salads, and chicken. Their seasonal outdoor patio is absolutely stunning and spacious. It's as if you were transported to Florida or the Caribbean! Enjoy one of their scrumptious meals while being surrounded by beautiful flowers and plants. Check out their lunch menu here and their dinner menu here.
SixtyFour Wine Bar & Kitchen | Naperville
Enjoy a lovely meal right off the Riverwalk in Downtown Naperville at SixtyFour Wine Bar & Kitchen! SixtyFour is considered the number one wine bar in the suburbs, offering bold cuisine, cheese and charcuterie, and 64 different types of both wine and beer. Relish in a nice meal and a glass of wine while taking in the beautiful views of the DuPage River and picturesque scenery. What a great way to truly experience the beauty of Naperville! Check out their menu here.
Gibson's Bar & Steakhouse | Oak Brook
Gibson's Bar & Steakhouse is an upscale restaurant that is the first in the country to be awarded its own USDA certification program. Some of their delicious food items include steak, burgers, seafood, and ribs. Their majestic, 5,000-sq-ft patio features an outdoor bar and a 150-foot-long fountain with miniature waterfalls that produce soothing sounds as you enjoy your meal. Plus, fire leaps out from a pair of pits to better enhance the view for their customers while they eat in this gorgeous oasis. Gibson's brings elegance and class to a whole new level with the light and bright ambience in their outdoor setting. Check out their delicious menu items here.
Arrowhead Golf Club Restaurant & Bar | Wheaton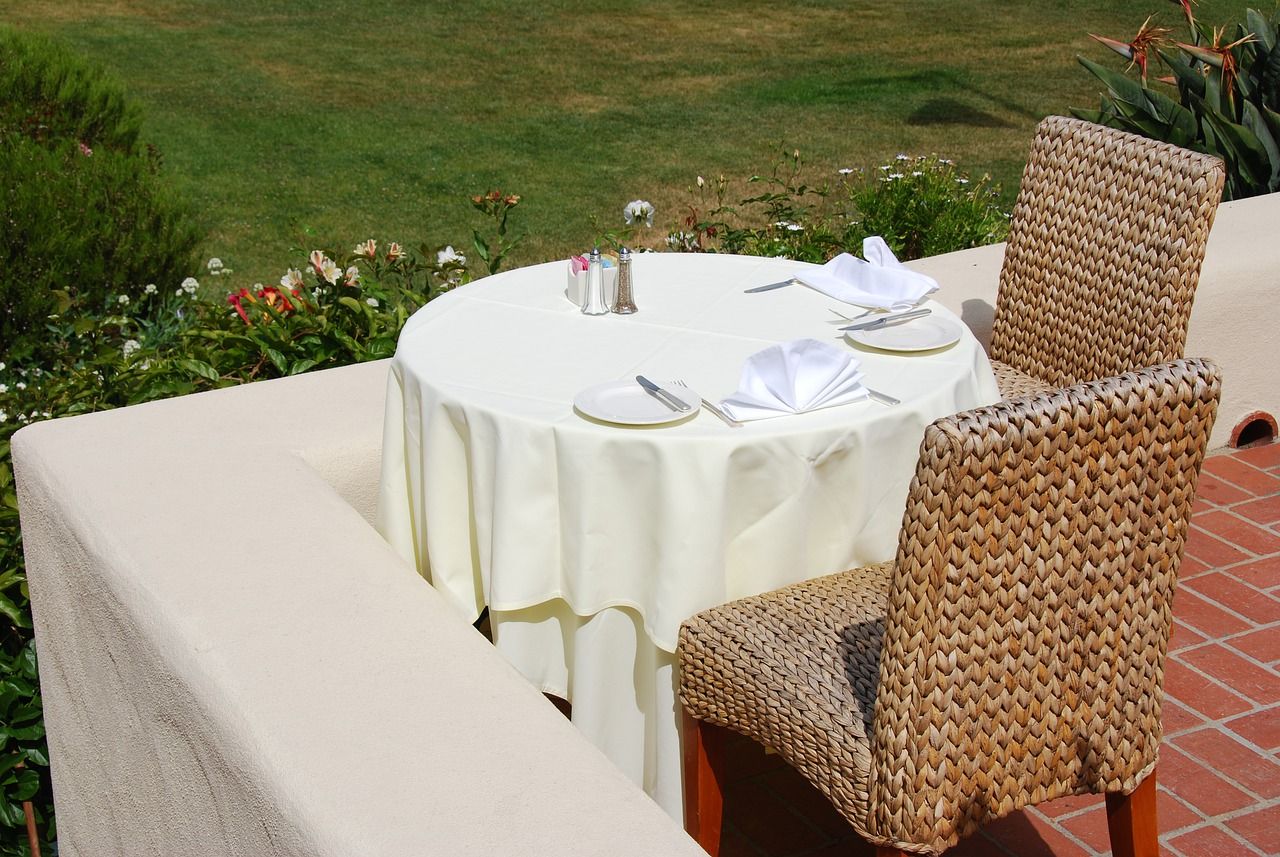 Arrowhead Golf Club Restaurant & Bar strives to serve their customers the ultimate dining experience. They offer innovative American cuisine prepared from scratch using only the finest, seasonal ingredients. Some of their appetizing food items include seafood, soups/salads, burgers, and various types of sandwiches. Grab the family and enjoy a nice meal on their outdoor patio overlooking the gorgeous views of the golf course and pond. Check out their mouthwatering menu items here.
Hardware is a sustainable gastropub and brewery serving tasty food and over 450 whiskeys. They are looking to change the way people think about eating local by doing such things as growing their own produce year-round in their greenhouse and growing fruits and nuts in their micro-orchard and gardens on their property. Their gorgeous outdoor dining area is spacious and relaxing with a garden-feel. Plus, there is a roaring firepit, gathering space, and beautiful views of the strings of fresh hops from the adjacent BBGB Hop Farm. Check out their unique menu here.
Hugo's Frog Bar & Fish House | Naperville
Fish so fresh that it could only be fresher if it swam in by itself! Hugo's Frog Bar Fish House is the destination for premier east and west coast frog legs, lobster, oysters, and seasonal shellfish and fish. Enjoy a scrumptious meal under one of the shade-producing umbrellas on their outdoor patio while listening to the soothing sounds of the burbling fountain. Hugo's is perfectly tucked away from the busy streets of Downtown Naperville making the atmosphere more peaceful and relaxing. Check out their menus here.