Local Real Estate Market Update: Week of July 20th
It is our goal to keep you informed of what we're seeing in the local real estate market. Check out this week's update to see why it just might be the right time to list your home if you're thinking of selling. As always, the data pulled is reflective of the Kendall, Kane, DuPage and Will County areas, so please be sure to reach out to an agent if you'd like data on a different area.
New Listings
The summer's new listing flow remains consistent. However, the market is still trailing 2019's new inventory levels.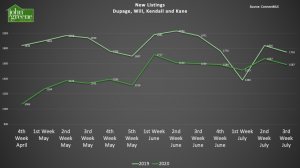 Under Contract
Last week was another week full of strong contract activity. With inventory levels still historically low, we are continuing to see a competitive real estate market with nice properties receiving multiple offers.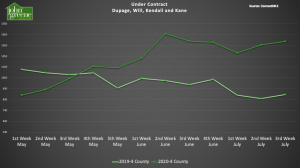 Showings
Showing activity is a great forward-looking indicator of buyer activity. The circle around the last few weeks highlights just how consistent the showing patterns are year over year. We are seeing normalized seasonality in the numbers, but obviously this year the traffic is remaining strong well into the dog days of summer. Last week we actually hit a peak for traffic this year, so buyer activity is showing no signs of slowing.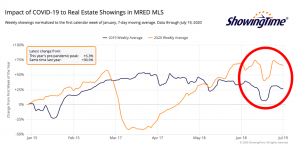 Absorption Rate
This is under contract vs new listings. In a normal market, this number generally hovers around 60% (for every 10 new homes that come to the market weekly, 6 go under contract). We expected to see the 2020 line eventually start to normalize, and we did start to see that percentage inching back towards normal. However, even with a steady number of listings coming to the market last week, a strong number of homes went under contract, causing that percentage to tick right back up. So, we remain in a very competitive and healthy real estate market.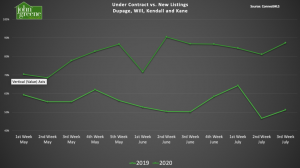 Summary
This is typically the time of the year where we start talking to sellers who are considering listing in the fall or thinking about waiting until next spring. While every seller's situation is different, given the current economics of the market with strong buyer activity, limited inventory, and a historically low-interest-rate environment, our advice is that if you are in a position to list your home you may want to consider doing so now. The data supports it, and with a strong marketing and pricing strategy, many sellers are finding excellent results.
For any questions, please don't hesitate to call our Real Estate Resource Hotline at 630-793-0876. Our team of agents is available and happy to answer any real estate questions you may have!