Local Luxury Real Estate Market Insights
This week, let's take a quick look at the luxury real estate market and the activity we've seen through the end of May. This focused on the four counties we primarily serve (DuPage, Will, Kendall, Kane), with a spotlight on Naperville.
New Listings
For the four counties, the trend is similar to what we are seeing in the overall market, with new inventory levels falling short of last year's numbers, but we are starting to see that normalize.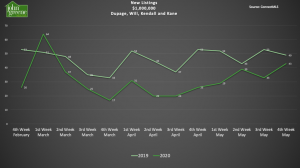 Naperville
Let's get hyperlocal with a look at the Naperville luxury market. In this graph, you can definitely see the COVID-19 impact on sellers' confidence to list there in the March dip and Naperville trailed new listings up until about May, where you can start to see things normalizing compared to last year.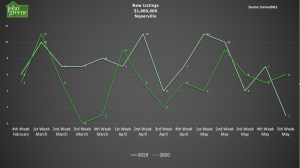 Under Contract
Luxury under contract activity in the four counties trailed off significantly as the pandemic escalated and it has been slow to catch up. However, we had a very strong last week of May and we have a sense this will continue.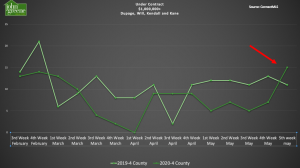 Naperville
In Naperville, you can see this year was pretty active in the luxury market pre-COVID. But it took a hit with 3 weeks of no contract activity. However, we're seeing progress with 4 homes going under contract during the last week of May.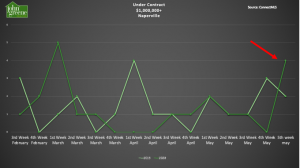 Luxury Market Summary
There was certainly some apprehension on both sellers' and buyers' parts, but the results in the past month are very encouraging and we hope to see the trend continue.
For any questions about the luxury real estate market and more, please don't hesitate to call our Real Estate Resource Hotline at 630-793-0876. Our team of agents is available and happy to answer any real estate questions you may have!